India-Pakistan Semi Final – Two Little Gems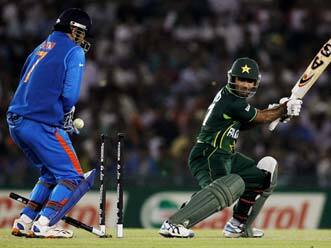 Two telling performances didn't quite get the accolades they deserved in India's win over Pakistan.

The typical Sehwag start took one key Pakistan player completely out of the game. Umar Gul, who had hitherto been a fine performer at the start and in the latter stages of the game, was completely shattered by Sehwag's blazing pyrotechnics. Gul's miserable fielding efforts seemed to prove his state of mind after the Sehwag bludgeoning. Had Gul been at his normal self with the ball and combined with Wahab Riaz on that day, it may not even have been a 100 over game. Sehwag just took one critical player out of the game for India.

At 205/6 in the 42nd over when Dhoni departed, and with just the tail to come, India looked doomed to something in the range of perhaps 225. Full credit is due to Raina for having shepherded the innings to a respectable 260 at the end. Raina's innings is even more precious given how the tail batted without any common sense – trying ambitious heaves instead of attempting a single to give Raina the strike.

Where the advantage given by Sehwag was frittered away by the middle-order, Raina ensured a score that could apply some pressure when the chase started. Pertinent to also note that the Pakistani fielding that was ragged in the early part of the innings picked itself up towards the end, and not many runs were gifted. Had India finished around 225, it would have needed more than a miracle to win.

Was the final result more owing to a disciplined Indian bowling performance or poor Pakistani batting? Even Shahid Afridi's little girls placed the blame on Misbah-Ul-Haq for slow batting. Pakistani networks lambasted both Misbah and Younis for choking in the middle, as they berated Hafeez for throwing away his wicket. Gifted, not earned wickets, was the loud cry.
The Pakistan batsmen never looked nervous about the bowling. They were just under immense pressure. Had Hafeez batted another 10 overs the script would have been very different, probably as different it would have been for India had Sehwag batten another 10 overs earlier in the day. Umar Akmal, playing with a fearless approach was the only real threat India had to remove.

Excellent captaincy, disciplined bowling and safe catching did help in the ultimate analysis. But take away the small gems from Sehwag at the start and Raina at the end and we could have been witnessed a very different result. Perhaps, one of the two really deserved the Man of the Match award in a game that was all about handling pressure.