Home / Fans Post / Missing 'Australianism': Reason for Australia's decline
Missing 'Australianism': Reason for Australia's decline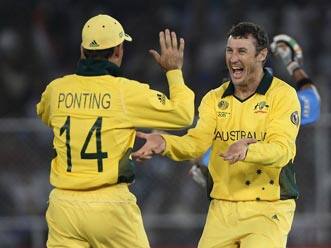 By Devarchit Varma

Never say die attitude was one of the main reasons why Australian teams of past succeeded – even in most difficult conditions. Intrepid players like Matthew Hayden, Ricky Ponting, Brett Lee, Adam Gilchrist, Glenn McGrath and Shane Warne hardly let the opponents to surmount them.

The term 'Australianism', which has been successfully associated with the country's most popular game for long and carried by these legends, is gradually diminishing from the present crop. Australia have lost the prestigious Ashes thrice on past four occasions and have now exited the World Cup – a tournament which they have won four times in history with three in a row.

Looking at Australia's recent performances, one would hardly find that this team even contested to their reputation. Australian cricket, which is ailing from the inability to substitute the loss with the tantamount, players being soft and not as aggressive as their predecessors; is left with an uphill task to reinstate the lost pride and status.

Australia looked sapless in most of the departments (excluding the bowling) throughout the tournament, and when Cricket Australia's chief James Sutherland and co. will kick off the much-anticipated review of Australian cricket in coming days, a big task ahead of them will be to reinstate the lost Australianism among the players – especially the new ones. A team known for its fighting spirit is gradually devolving. The players are surrendering without putting in blood and sweat.
Ricky Ponting wouldn't have missed Andrew Symonds anymore than he did in the game against Pakistan. Symonds's blistering 143 in the 2003 edition not only revitalised Australia, but ousted the opposition from the game. But, in 2011, Ponting's worst nightmare became reality as an out-of-form Cameron White failed to bank on the opportunity to score a few runs batting at number five and rescue the team.

Apart from Michael Clarke's efforts with the bat, middle-order's failure to score runs was a huge factor in defeats – even in the Ashes. Michael Hussey's inclusion in the World Cup squad was much-needed, but the Aussies were too late to realize the utility between Steve Smith and David Hussey.

Only Ponting showed heart amidst hurtful reports of spot-fixing, him moving to County cricket after the tournament and a few more. He came in the field against India having not scored a single hundred since last Valentine, but with the classy ton at Ahmedabad, he won hearts and respect. Is the Australianism left only in Ponting? Where are the others to rescue Australia when it is needed?
The absence of audacious openers was hurtful. Shane Watson and Brad Haddin only ensured stable starts, and never dominated weaker bowling attacks. Australia didn't get brisk starts even against minnows such as Kenya, Zimbabwe and Canada!

Once-invincible Aussies have only one good performance to recall from this World Cup apart from Ponting's century. In their game against Pakistan, which saw their World Cup winning streak ending, only Brett Lee toiled and scalped four wickets with a paltry score on-board. Had he got adequate support from the other end, things would have indeed been different!

After Warne's retirement, the struggle to find a quality spinner has become chronic. Nathan Hauritz, Xavier Doherty, Michael Beer, Jason Krejza are among the tweakers Australia have tried since Warne's adieu. Krejza's sudden inclusion for a big tournament like World Cup was utterly naive, as he struggled to find rhythm and cope up with the pressure.

Ponting has resigned from captainship, making way for new leader to come, rebuild and dictate things in his style. Clarke, who has been nurtured for long to take command, must forgo his soft-heartedness as he takes reins of Australia. During the Ashes, Mark Waugh was right to censure Clarke for apologizing on Twitter after he stood still, being dismissed at a crucial stage.

Clarke must draw lessons and inspirations from the great Ian Chappell, Allan Border, and Steve Waugh, and even Ponting – as the challenge ahead of him is to revive the Australian cricket and bring back the winning momentum. Besides, he also has to protect it from the perils of Twenty20 cricket.

Another kingdom is falling into slump. Australia's decline can prove horrendous for the game. The standards they'd set can never be met, records are still unmatched. It's time to take right steps towards the future. Last thing cricket fans would want to see is Australia going the West Indian way.