Home / Fans Post / Sachin Tendulkar - The Little Master and his Struggle against Injuries!
Sachin Tendulkar - The Little Master and his Struggle against Injuries!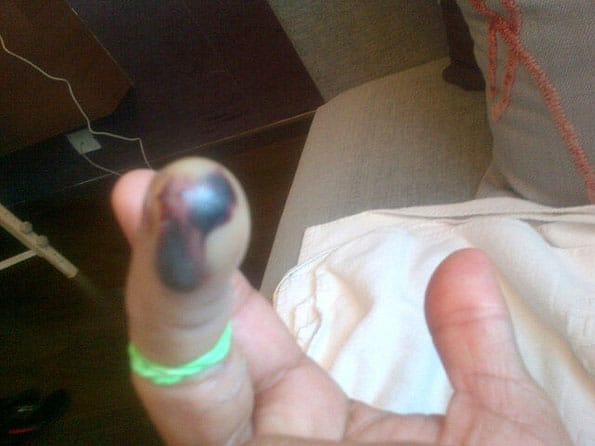 Sachin Tendulkar is struggling with his finger injury which he sustained during the first match in IPL 2012. There was a phase in Tendulkar's career when his injuries made people to talk about his retirement. In 2004 Sachin battled against a tough tennis elbow injury which made it very difficult for him even to grip the bat. But the brave Sachin drove through testing times and as always came out as a Champion, The Little Master!

Remember these two media pieces?

Sachin Endulkar? - We now face that dreaded image: Sachin playing in fading light - "To play in international cricket, Sachin may have to give up one of its two forms." OCT, 2004 - Published in Outlook

A picture of Tendulkar kneeling on the crease after being bowled by Mohammad Asif at Karachi. The picture was captioned; "ENDULKAR". - FEB 2006 - Published in Times of India

Seven years since the term Endulkar was coined, Sachin has scored more than 10,000 international runs with 30 centuries, and more than 50 half centuries and almost with the same batting average as he did before 2004 from his debut in 1989. He helped India become the No.1 ranked team in the World and also had a major hand in India's World Cup win 2011.

If we see the list of Sachin Tendulkar's injuries we need to go back to 1999, a chronic back problem of Sachin Tendulkar flared up when Pakistan toured India in 1999, with India losing the historic Test at Chepauk despite his brave century. The back injury forced Sachin out of the one day series leading upto the World Cup in 1999. But Tendulkar recovered fast and played in the World Cup without much practice for his country.

In 2001 a toe injury kept Tendulkar away from three Tests and seven ODIs against Sri Lanka, the first time he missed a Test match since his debut.

In 2002 it was a thigh injury that kept him out of a One-Day series against Zimbabwe and in the same year a hamstring injury kept Sachin away from playing the West Indies at home.

In 2003 Sachin Tendulkar missed the four ODIs against New Zealand due to an ankle injury. Tendulkar fought with a finger injury, to score record 673 runs in the 2003 World Cup and was also named the Player of the tournament.

In 2004 and 2005 Sachin suffered from the famous Tennis Elbow. For which he went for surgery leaving him out of the side for the first two Tests against Australia who toured India in
2004. It also forced the Tendulkar to sit out during Videocon Cup limited-overs series in Holland, the ODI series against England, the ICC Champions Trophy and the first two Test matches against Australia at home.

In 2006 Tendulkar underwent shoulder surgery in March after the home series against England, which kept him out from the subsequent tour of the West Indies.

In 2007 Sachin Tendulkar sustained knee injury during fielding in the second Test at Kolkata.

In 2008 he was out from IPL for the initial matches as the master blaster suffered a groin injury during India's first test against South Africa in late-March.

In 2009 Sachin missed the fourth ODI in Hamilton after an abdomen injury during the third match of the New Zealand series. Tendulkar's woes started after he suffered a massive blow on his abdomen by a fast delivery from New Zealand pacer Iain O'Brien during the second ODI in Wellington. Despite the stiffness, Tendulkar decided to go ahead with the third match of the series. Not only he scored a magnificent century, his 43rd in limited overs cricket, but also aggravated his injury. As result, he had to miss the fourth ODI in Hamilton.

In 2010 Sachin Tendulkar captaining the Mumbai Indians team, suffered an injury on his right hand in their semifinal win over Royal Challengers, Sachin played IPL final despite splitting the finger web and scored 48 runs, the highest score from his side.

In 2011 Tendulkar injured his right hamstring during his 24-run innings in the second ODI against the South Africa at the Wanderers, which India won by a slender one run margin to level the series 1-1. Injured Sachin Tendulkar was ruled out of South Africa ODI series.

Latter the recurrence of the 2001 aggravated toe injury which kept him out of the One Day series in England and making him unavailable for the CLT20 2011 which Mumbai Indians won under Harbhajan Singh's leadership.
In 2012 Sachin completed his 100th international century, a record which looks most difficult to break. Tendulkar entered the IPL 2012 without any mental pressure and he made sure Harbhajan became the captain of Mumbai Indians so that he can play freely and enjoy his game. He started the IPL season well but got injured in the first match against CSK. Tendulkar, who was batting on 15, got a short ball from Bollinger. It climbed onto him as the delivery hit one of the green patches and reared up uncomfortably. Tendulkar could just fend it off as it hit him on the glove. The Master Blaster later shared a picture on social networking site Twitter, and said, "Finger still not looking good. Had to aspirate blood from my finger twice in 4 days."

Sachin is eager to return, even MI coach Shaun Pollock is optimistic that Tendulkar will play the match against Delhi Daredevils on 16th April. And we hope this time too Sachin will fight the battle against his injuries and will come out to bat once again as a Champion soon.