Will India get another Lord at Lord's?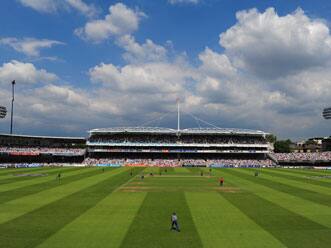 Nine years ago, Dilip Vengsarkar wrote an article in The Indian Express on India's famous victory in the NatWest Trophy final against England. Vengsarkar, in his article paid rich tribute to the dynamic duo of Yuvraj Singh and Mohammad Kaif who helped India chase a big total of 326. Yuvraj and Kaif stormed India to a famous victory at Lord's in the NatWest Trophy final against England.

Yuvraj then became a household name in India and experts showered praises on him for his amazing performance. Yuvraj since then has established himself as One-Day specialists in the Indian team. Yuvraj is now the backbone of India's batting in the limited over format. He played a vital role in India's recently concluded successful world cup campaign. He scored 362 runs, took 15 wickets; collected four Man of the match awards and was declared Man of the tournament for an outstanding performance in the tournament.

Many of the attributes ascribed to Yuvraj in this article by Vengsarkar can be ascribed to other Indian cricketers of the past era who gave unforgettable performances at this famous venue.
Vengsarkar, in his article praised the effort of the two batsmen. He wrote "Chasing as mammoth a target of 325, the Indians achieved the ultimate. Full marks to Yuvraj and Mohammad Kaif for believing in themselves especially when Tendulkar got out. They kept their cool and showed exceptional temperament to win the match."

Ironically, 'cool' and 'exceptional' temperaments were the traits associated with Vengsarkar himself in his playing days. He achieved greatness when he became the first cricketer to score three hundreds against England, when he became the first cricketer to score three hundreds against England at Lord's. He was one of the best batsmen in the country for two decades in '70s and '80s. He scored eight centuries in 16 Test matches from 1986 to 1988 and established himself one of the leading batsmen in the world.

Six years before Yuvraj and Kaif's feat, Sourav Ganguly and Rahul Dravid came into limelight after scoring brilliant knocks of 131 and 95 runs respectively at Lord's. Both of them went on to become legends of Indian cricket.

Ganguly, along with batting maestro Sachin Tendulkar formed one of the most destructive opening batting partnerships in the world. Ganguly later took over the captaincy of the Indian team in 2000 and is considered by many as the greatest captain in the history of Indian cricket.

Ever since he took over the captaincy role, India started to win more Test matches abroad. He is credited to bring aggression in Indian cricket. Indian players developed 'fight fire with fire' attitude under the leadership of this Bengal tiger.

Dravid on other hand became the backbone of India's batting in the middle-order. His calmness, along with never give up attitude helped India win many memorable matches when the chips were down and whenever India needed resistance against hostile bowling on bouncy tracks in foreign countries. Dravid with his amazing consistency never let his team and country down, and rightly earned nick names like – 'The Wall' and 'Mr. Dependable'. His unforgettable innings of 180 runs against the then no. 1 Test team, Australia; along with VVS Laxman's 281 in the famous 'turn-around' Test match in 2001, is still considered by many his best ever knock. This innings, in many ways describes his character and resilience as a batsman. His innings helped India bounce back from losing position and win the match and eventually, the series. Many such terrific performances, both at home and abroad have made Dravid as one of the greatest batsmen of all time.

In the article, Vengsarkar also mentions the never say die attitude of the Indian cricketer, which he thought was missing for a long time. He writes, "Just when everything seemed lost, Yuvraj and Mohammad Kaif, the young brigade of the Indian team pulled it off with a remarkable performance not seen for a long, long time."

Vengsarkar was a part of the team that won the world cup at the same venue in 1983, led by a young captain. That team had displayed similar traits of performing at the highest stage of world and eventually, it became a part of India's unforgettable history.

It will be interesting to see in the upcoming India's tour to England, when India plays its first Test match at Lord's, who will emerge as the lord of Indian cricket.