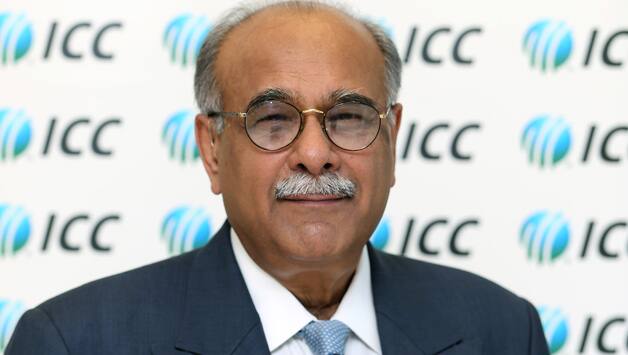 Melbourne: Jun 28, 2014
Pakistan and West Indies Cricket Board chiefs, Najam Sethi and David Cameron were on Saturday elected to the all-powerful ICC Executive Committee, which will include new ICC Chairman N Srinivasan. The ICC Executive Committee will be chaired by Australia's Wally Edwards and will also have England's Giles Clarke. The duo's election was approved by the ICC Board, under the chairmanship of Srinivasan, during the ICC Annual Conference weekend here.
India, England and Australia have permanent representatives on the five-member committee, while the other two members will be elected from the ICC board on an annual basis. David Richardson, who received a two-year contract extension as ICC chief executive, will be an ex-officio member of the committee.
The Executive Committee was created as a part of the raft of administrative changes ushered in by the Board of Control for Cricket in India (BCCI), England and Wales Cricket Board (ECB) and Cricket Australia (CA), and described by its architects as "the sole recommendation committee on all financial (including ICC distributions and costs), constitutional, personnel (other than event personnel), anti-corruption, ethics, integrity, development and director nominations matters".
The ICC Board noted the significant progress made on the Future Tour Programmes that has been extended through to 2023 and expressed satisfaction that there was now more certainty around long-term scheduling with a reasonable balance between home and away matches for all 10 teams as well as between the three formats.
"The ICC Board agreed with ICC Chief Executives Committee recommendation that members must sign all bilateral agreements through to 2023 before the next ICC meeting, which takes place in October," a release from the ICC said. The ICC Board approved the composition of various sub-committees, which expectedly did not have any representative from Cricket South Africa.
Clarke will chair the Finance and Commercial Affairs Committee (F&CA), which will also include Edwards, Srinivasan, Nazmul Hassan (Bangladesh) and Jayantha Dharmadasa (Sri Lanka) with Richardson again an ex-officio member. The ICC Development Committee has also been reconstituted to emphasise the strategic importance of developing the game beyond its traditional boundaries.
The Committee will be chaired by the ICC Chairman and include the three Associate Member representatives of the ICC Board, the three Associate Member representatives on the ICC Chief Executives' Committee and the Affiliate Members' Global Representative. It will also include the Full Member Directors Chingoka (Zimbabwe), Cameron (West Indies) and Snedden (New Zealand) as well as Richardson and ICC Head of Global Development Tim Anderson (both ex-officio).